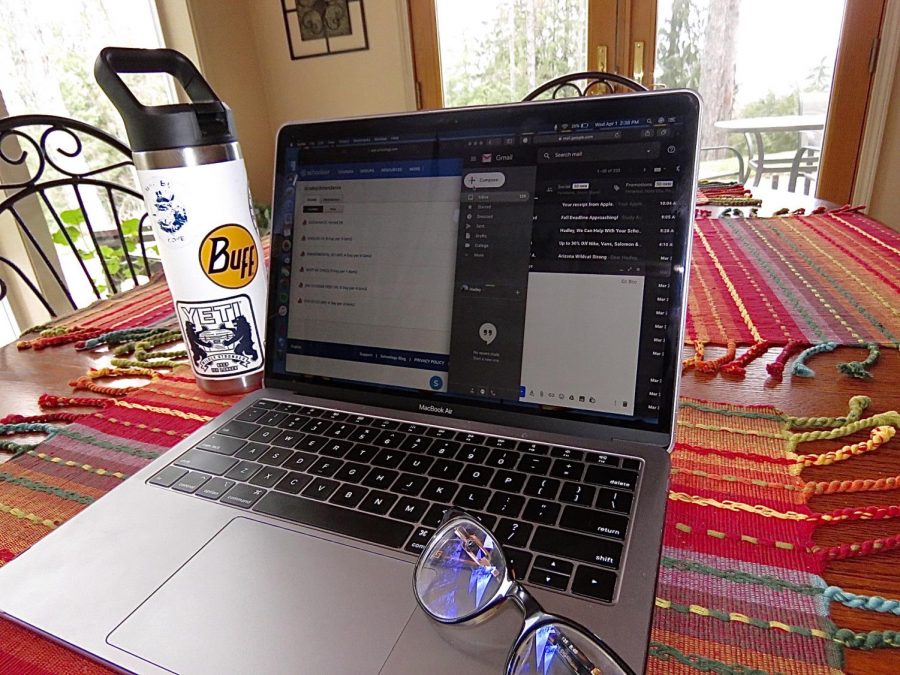 Hadley Goodvin
The extended closing of Sandpoint High because of the coronavirus may seem like a dream-come-true to some, but many students are feeling the impact it is having on learning and activities.
The school closure, which took affect March 17 for the Lake Pend Oreille School district, has impacted students in all grades in a variety of ways. Idaho's State Board of Education extended a "soft" closure to schools across the state through April 20, but students and staff are in a wait-and-see position as the board considers extending the "soft" closure to a later date or even for the rest of the school year. A decision is expected at an April 6 special meeting.
The school closure has made for an unusual start for freshmen in their first year of high school. One area that the closure has had a big impact is spring sports.
"I know that the baseball team's season has practically been cancelled," freshman Arie VanDenBurg said.
The Idaho High School Activities Association suspended all games and practices for spring sports through April 20, so freshmen like VanDenBurg have not had the opportunity to play with their teammates or work with their coaches to improve.
VanDenBurg said that the switch to online classes for him have been hard, but he has been able to manage distance learning with a few adjustments.
"The only hard part is finding exactly what you have to do for each class and making sure you read all your emails," he said.
Sophomore Anna Auld said that the quarantine and the coronavirus has affected her classes greatly.
"There hasn't been as much of a workload," Auld said. "Plus, I have more time to complete my assignments, but it is significantly harder to teach myself the material without much reliance on the teacher."
She adds that most teachers are changing and updating specific due dates, making it more of a "everything is due at the end of the week" schedule where students work at their own pace.
"It does get overwhelming if you aren't keeping up with your assignments or if you have a problem procrastinating," Auld said. 
Auld is involved in the SHS Performing Choir, which has pretty much shut down completely. Choir is a group activity, and unlike a lot of other classes, it can be hard for student to do on their own.
"learning the piece without the benefit of having an instructor there is difficult," Auld said, "and you also don't get the same feel for the music when you aren't singing it with other people."
For junior Chris Koch, the ambiguous timeline of the school closure and the sudden switch to distance learning is having a big impact.
"I think that the not-knowing aspect really scares everyone," Koch said. "Teachers not knowing how long there will be distance learning, not knowing the best method of distance teaching, and especially not knowing how to keep the students motivated to surpass the rough times and keep learning."
Koch said he feels especially bad for the seniors. Before spring break, it was announced that prom was canceled. Student Council hopes to reschedule the dance, but the longer the school closure, the more events for seniors will be canceled.
"Their special year they have been waiting for is being postponed or maybe even canceled … the last hoorah disappearing and the only thing they can do is wash their hands," Koch said.
Perhaps the biggest surprise for people in North Idaho is the way a global pandemic is affecting life in a small town. As of April 3, there were two reported cases of COVID-19 in Bonner County, but community spread has occurred in Kootenai and Spokane (Washington) counties.
Idaho Governor Brad Little issued a three-week stay-home order that began at the end of March. Public health officials were reporting more than 1,000 cases of COVID-19 throughout Idaho in early April.
"When this all started to come into play, it was easy to see all of us kind of blow it off like it wasn't a big deal," senior Sage Saccomano said. "We all continued with our routines, thinking it'd never get to our precious town of Sandpoint, Idaho." 
These past couple weeks, the senior class has been taking more hits than any other grade level.
"Most of my class is heartbroken," said Saccomano, who spent her junior year on an exchange trip to Italy. "… This was the year we have been working towards and looking forward to since the beginning, and to see it taken out of our hands so easily by this virus is devastating."
Saccomano said she is personally disappointed that there is a chance that the senior activities she was excited about participating in — prom, senior nights for sports, academic achievement night, graduation — might be canceled.
"To see our class have to basically miss the entire transition period together, and ultimately our last months together taken away from us is heartbreaking. There is no other way to put it," Saccomano said.