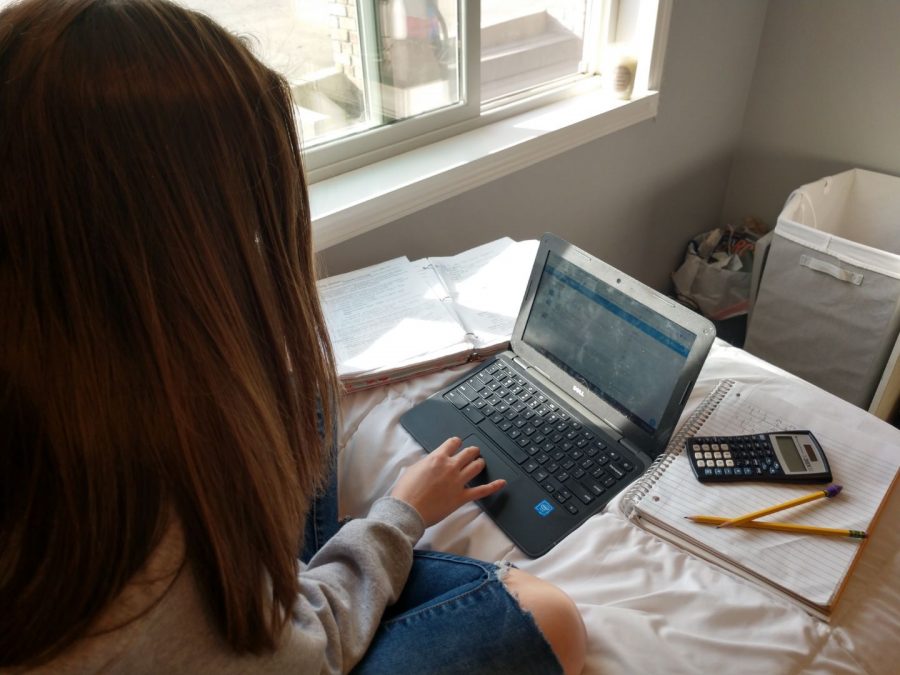 Molly Balison
The cancellation of schools in the Lake Pend Oreille School District due to the coronavirus pandemic is causing complications to students' learning.
Sandpoint High will continue its curriculum online in order to keep students on track for finishing their courses on time without having the school year cut into summer break. This will be an obstacle for students who do not have access to Wi-Fi, but still have to find a way to complete the homework by going into school to pick up tangible assignments or set up meetings with their instructors.
Teachers that have more hands-on class activities such as Leticia Mullen, a science teacher, have to think outside of the box to help their students learn the material in a different way.
"Figuring out how to keep my classes moving forward during this time requires a lot of creativity," Mullen said.
Mullen also said that grading appropriately will be challenging. While a lot of schools around the country are implementing forms of distance learning, according to an article in The Wall Street Journal, states and school districts are looking at if these assignments can count toward a student's grade since not all students have access to the internet or transportation to the school. 
"I am very concerned about maintaining equity in grading when many students do not have reliable access to the internet," Mullan said. 
Most teachers are keeping up to date on their lessons plans by posting on Schoology unit by unit or even quarter by quarter.
Some teachers were better prepared for the sudden closures. Students in Nachelle Search's flipped math classes, for example, can watch video lessons to catch up on days they've missed class, which comes in handy during this school closure or snow days.
Other teachers who don't normally make video lessons a part of their class, such as Spanish teacher Mary Imaz, make it an option in order to help their classes learning material from home. Imaz, among other teachers, is happy to provide communication through any means necessary including video chat and phone calls.
"Those that truly want to continue learning Spanish can do that," she said. 
Schools closing also poses complications for AP courses. Since students in these advanced classes complete their work at a faster pace, by spring they are studying for their AP exams to earn college credit. According to stats teacher Wendy Auld, the organization that runs AP testing is scrambling to find testing alternatives. 
"The College Board randomly surveyed students across the country yesterday asking how they would feel about a 45 minute at home [multiple choice] only exam," Auld said.
Auld said she was excited for her students to have this opportunity and it would be easy for them to prepare for.
Micheal Martz, a science teacher and admin, explained that administering tests will be another challenge because teachers won't know if their students are taking the online tests and quizzes with integrity while not using resources. This is especially serious for AP classes which are responsible for upholding college expectations.
"If shut-downs lasted into May or later, the actual AP test could be postponed or cancelled," Martz predicts. "It's definitely uncharted territory."
Martz believes that the switch to online schooling will be the ultimate test to students' success in what can be a confusing time for many at the high school.
"I think this whole experience will really highlight which students actually value and have ownership of their education … and hopefully be a learning experience for those who don't," Martz said.
Click on the podcast player below to listen to [email protected] host Connor Bird's interview with LPOSD superintendent Tom Albertson about the district's decision to close schools.